Below is our list of best places to visit & things to do in Monterey, California

Cannery Row
A renowned tourist destination in the city of Monterey, this is for a good cause!
Cannery Row is a must-see in Monterey since the city's waterfront was formerly dominated by canning and fish processing industries, earning it the label "Sardine Capital of the World."
From 1908 through 1945, there were canneries all along the coast, except for the Great Depression.
After World War II, sardines disappeared from Monterey Bay, leading to the canneries' closure and the area's destruction.
In the latter half of the 1960s, new construction was undertaken in the area.
It was also a popular tourist attraction, with a wide range of lodging and food choices for visitors.
Cannery Row's revival has made it a must-see attraction for every visitor to Monterey.
Attractions like wine tasting, boutiques and small gardens may be found between the buildings and art museums with views of the bay.
Cannery Row has a variety of activities to choose from, or you can relax and enjoy the landscape.
Address: Cannery Row & Wave Streets, Monterey, CA 93940, United States
Casa del Oro
Have you ever been curious about how old-school retail establishments looked? Find out by visiting Casa del Oro!
When it opened, Joseph Boston Store was one of the city's earliest retail establishments and was positioned in the center of downtown.
Furthermore, Thomas O. Larkin, the American consul in Alta, California, in 1845 built the tower.
The property was rented out to Joseph Boston, who ran a general merchandise store.
He offered soaps, coffee grinders, pans, dusters, dinnerware, nuts, buckets, ham, and teas, just a few of the products he dealt with.
The lack of banks in the region necessitated the installation of the city's first safe at the Casa del Oro.
That's how the name Casa del Oro (Gold House) started.
The local gold field's miners set up a storage facility to keep their riches safe.
Thus, Casa del Oro has become a well-known tourist attraction in the state. The safe is still on-site and is available as an added perk for guests.
The table and chair used by Boston are still in place.
There are still a number of 1850s-themed items at the store, including stationery and confectionery.
Address: M210 Olivier Street, Monterey, CA 93940, United States
Colton Hall Museum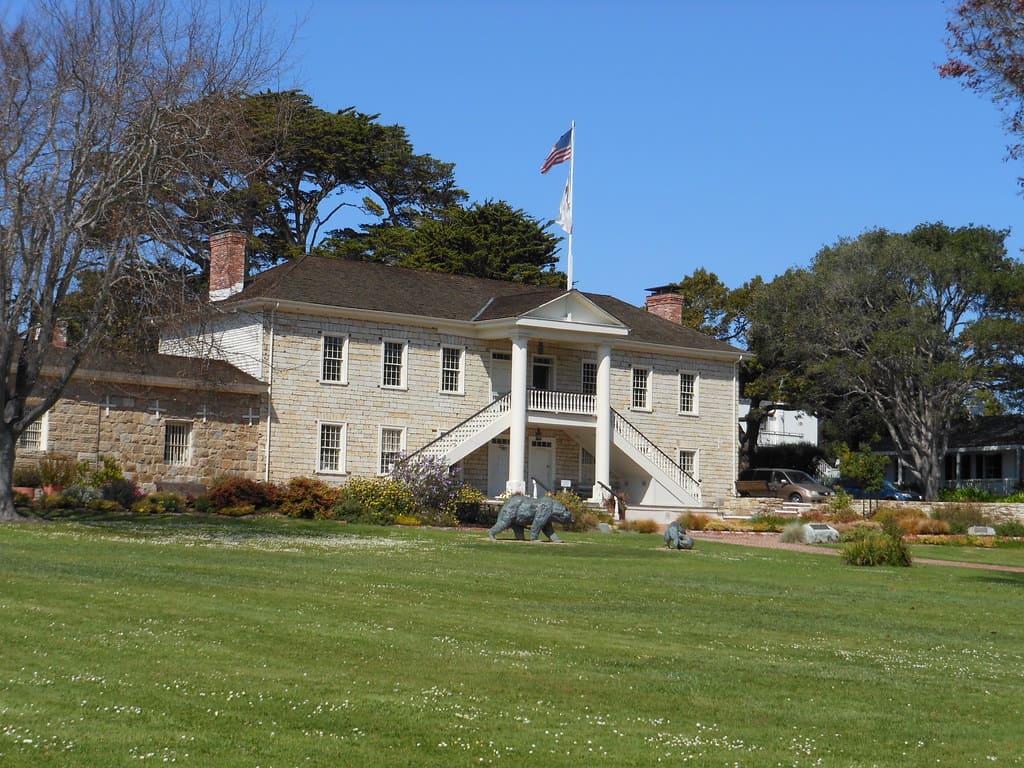 Colton Hall is where California became a state of the United States for the first time.
This is why it's so worthwhile to pay a visit here!
The Monterey merchant Walter Colton was selected for his role as district chief magistrate.
For the first time, an American public building was named after him after serving for three years in this position.
A group of 48 members from 10 districts met in Colton Hall in 1850 to discuss the state's borders, its capital city, and the abolition of slavery following the convention.
After it was signed on October 13th, 1849, and approved a month later, the constitution had to spend three months in Washington, DC, before it could be ratified.
Colton Hall was assigned a new role during this period because the state capital had relocated to San Jose.
In 1873, it was a primary school that served various purposes until becoming a part of the city's municipal complex.
On the second story is the Colton Hall Museum, and on the first floor are the offices of the Department of Planning and Building.
The museum, founded in 1949, has a plethora of objects and information relating to the establishment of California and its subsequent governance.
For no charge, you may take the tour.
Address: 570 Pacific St, Monterey, CA 93940
Dennis the Menace Playground
The Dennis, the Menace Playground, is the perfect place to let your kids burn off some energy.
If you'd like, you may start your Monterey vacation at the Dennis the Menace Playground.
Dennis the Menace, the cartoon character, was created when Hank Ketcham, an avid advocate of children's happiness, resided in Carmel. He enthusiastically supported the idea.
A big ship and many play structures with giant slides are on the grounds of the park. There is also a climbing wall and a hedge maze.
It is, in reality, an exhilarating playground that has been meticulously planned.
Even a Southern Pacific steam locomotive that dates back to 1924 is displayed during the exhibit.
Although this playground is constantly monitored, children of all ages will have a great time here.
Overall, it's a beautiful experience.
The playground is safe, fascinating, and brimming with entertainment!
Address: 725 Pearl St, Monterey, CA 93940, United States
El Estero Park
Stay hydrated at all times! Experiencing everything El Estero Park has to offer will take all your stamina.
El Estero Park's recreation area around Lake El Estero offers a variety of exciting outdoor activities, including a themed play area for children.
The lakefront El Estero Exercise Course offers a wide path for hikers and bikers to enjoy the gorgeous surroundings.
Exercise stations are scattered around the 1.2-mile "parcourse" to provide guests with a well-balanced and entire body workout.
Designed and developed by local skateboarders, Monterey Skate Park is a pleasant and safe venue for skateboarders and inline skaters of all ages to exercise their skills.
Meanwhile, anglers may take advantage of the lake's thriving population of trout, perch, and blackfish to their hearts' content. The fishing piers at Lake El Estero are accessible to those crossing Pearl Street on their boats.
The park's Dennis the Menace Playground features attractions, including a climbing wall and a hedge maze that keep children occupied for hours.
Enjoy El Estero Park with your children while they play and enjoy the sights.
Address: 798 Del Monte Ave, Monterey, CA 93940
Fisherman's Wharf
This wharf is one of Monterey's most popular attractions, so don't miss it!
After being used as a commercial fish market until the early 1960s, the Fisherman's Wharf in Monterey has become a popular tourist attraction for visitors to the city of Monterey.
Salmon and abalone were the primary targets for Japanese fishermen. Then, Chinese abalone and squid fishermen came to visit;
The sardine industry's expansion was launched by Portuguese whaling for blubber from local gray and humpback whales and Italian fishermen.
Residents refer to it as "The Old Fisherman's Wharf" to distinguish it from the modern commercial wharf.
Fisherman's Wharf is a hive of activity, from open-air clam bars to fine dining venues with stunning ocean views.
Several travel operators offer whale-watching and deep-sea fishing excursions.
The wharf is also a popular resting spot for the many large sea-lions that inhabit the waters of the Bay of Fundy.
For souvenirs to take back with you, browse the numerous small gift shops and art galleries, as well as jewellery and confectionery stores.
Address: 1 Old Fishermans Wharf, Monterey, California 93940
Golden State Theatre
Theatrical venue in an unusual location? No, there isn't.
The Golden State Theatre's architecture distinguishes it from other buildings in the area.
Alvarado Street is home to one of San Francisco's best-preserved Moorish-style movie theaters.
Since its opening in 1926, the Golden State Theatre has served as one of Monterey's oldest and most historic theaters.
When the Theater was renovated, it was brought back to its former splendour after it had fallen into ruin.
The theater has upgraded its interior to include a frescoed sky canopy roof, plush velvet seats, and state-of-the-art sound equipment.
These days, the theater hosts several high-profile concerts and film festivals, but it may also be booked for private parties and other events.
The entire family will have a blast while watching a movie here!
Address: 417 Alvarado Street, Monterey, California 93940,
McAbee Beach
What's going on? McAbee Beach is a must-see!
It's hard to beat McAbee Beach in the heart of Monterey, California's Cannery Row, which is home to various hotels and restaurants.
John B. McAbee purchased the golden sand beach on Ocean View Avenue, now known as Cannery Row, and launched one of the original businesses in this neighbourhood.
Even though McAbee rented out boats, tents and little cottages throughout the summer months, he never made enough money to pay his costs.
There is enough sand for guests to play about when there are low tides during the summer and high seasons.
During high tide, McAbee Beach transforms into a tiny cove with polished stones, yet there is still enough sand to qualify as a beach.
Sunny days are perfect for visiting the waterfront and shopping and sunbathing on the rocky bluffs just below McAbee Beach.
During the right weather conditions, kayakers and scuba divers can be spotted on the beach.
Address: 600 Cannery Row, Monterey, CA 93940
Monterey Bay Aquarium
You don't have to get wet to get great shots of the ocean's inhabitants.
The historic sardine cannery site on Cannery Row became the location of the Monterey Bay Aquarium in 1984.
The aquarium's several tanks and pools, which highlight sea life from the California coast, house more than 600 species of plants and animals.
The Ocean's Edge Wing has a massive kelp forest on many floors, while the Open Marine galleries have jellyfish, stingrays, and sea otters.
In addition, it is one of just a few aquariums in the world where you may see Bluefin, Yellowfin, and Sunfish.
The jellyfish were kept in a tank known as the Kreisel tank, which generated a circular flow of water.
A trip to the Monterey Bay Aquarium is a must-do in the coastal city of Monterey, California.
Address: 886 Cannery Row, Monterey, California 93940
Monterey Bay Coastal Recreation Trail

Trying to find free things to do that are worth your time?
Monterey Bay's Coastline Recreational Trail is a must-visit!
The Monterey Bay Coastal Recreation Trail, which follows the Southern Pacific Railroad track, is one of Monterey's most popular paved pathways.
Individuals who wish to use the beautiful surroundings while also getting some exercise can take advantage of an 18-mile recreational trail that runs from Castroville to Pacific Grove.
Many attractions along the waterfront include Fisherman's Wharf, Cannery Row, and the Monterey Bay Aquarium.
A six-person canopy quadricycle may be rented, but you can also take a walk.
Kayak, paddleboard, or surfboard rentals are available if you prefer a different route.
Hiking in this area allows you to see a wide range of wildlife and birds.
It's safe to say that you'll never forget this place!
Address: Monterey Bay Coastal Trail, Monterey, CA 93944, United States
Monterey Bay National Marine Sanctuary
The Monterey Bay National Marine Sanctuary is a great place to have some fun in the water.
Regarding animal watching, there are few places better than the Monterey Bay National Marine Sanctuary in California.
The marine sanctuary, which includes beaches, tidal pools, thick kelp forests, steep canyons, and offshore seamounts, is easily accessible from San Francisco to Cambria.
Various outdoor activities and excursions, including fishing for salmon, diving in the kelp forests, or paddling a canoe to spot whales, can be enjoyed amid the sanctuary's natural magnificence.
It is a must-see for any family visiting Monterey with young children.
Visitors to San Simeon and Santa Cruz may learn about the refuge through hands-on displays and educational activities guided by volunteers familiar with the region.
Make it a point to visit this location in your travel plans!
Address: 35 Pacific Ave., Santa Cruz, California 95060
Monterey County Youth Museum

The Monterey County Youth Museum is a great place to take your kids to foster their curiosity and creativity!
In 1997, the Monterey County Youth Museum was established to inspire youngsters to learn and grow through their innate curiosity. "
The Monterey Sports Center and Dennis the Menace Park may be found within a few blocks.
Exhibits and displays at this 8,500-square-foot museum are oriented toward the interests of children under the age of 10, so each visit is unique in its way.
In addition to MY Hospital, MY Build a Home, and MY Creation Station, there are many instructive and fun displays for children.
Special events are held throughout the year, and the museum is also available for private parties!
You don't need to be afraid to speak up! The museum is open to adults as well as children.
Address: 425 Washington Street, Monterey, California 93940
Monterey Jazz Festival
A trip to Monterey, California, during the right time of year, is a must-do.
As a celebration of America's artistic and cultural heritage, the Monterey Jazz Festival has been held annually since 1958.
Jazz luminaries and up-and-comers are featured during the event.
The Monterey Jazz Festival, the world's longest-running jazz festival, is situated on 20 acres of oak-studded land.
Festival-goers may also take advantage of exhibitions and an international shopping fair.
World-renowned artists will be at the event, including Chick Corea, Wynton Marsalis, and Ambrose Akinmusire.
It lasts for three days and two nights every year in September.
On the night before the event, the Monterey Jazz Festival awards its renowned Jazz Legends Award to a great member of the jazz world.
It will be great fun. Don't miss it!
Address:2004 Fairground Road, California 93940
Monterey State Historic Park
Do you enjoy learning about the past? If that's the case, you should surely visit this lovely park!
To learn more about the history of Monterey and the surrounding region, visit the Monterey State Historical Park, which features several historic structures.
Monterey's "Walking Path of History," a major tourist attraction, includes more than a dozen sites, including the Custom House, one of California's oldest government offices.
Yellow-tiled signs identify the path through the Monterey State Historical Park, where you may learn about California's history.
The site of the first Spanish landing on American territory may be visited. You'll also be able to witness one of the few remaining whalebone pathways in the country.
A must-see for travellers is the Monterey Customs House, where the American flag was first flown over California in 1846.
Address: 20 Custom House Plaza, Monterey, CA 93940, United States
Monterey Museum of Art

Explore this museum in Monterey if you're feeling creative!
The Monterey Museum of Art (MMA) has a vast collection of Californian art, which is the museum's focus.
More than 14,000 works of art are part of the museum's permanent collection, encompassing everything from contemporary art to photography to early California painting.
La Mirada and Pacific Street are two separate locations for this museum.
On Pacific Street, you'll find the likes of William Ritschel, Ansel Adams, Edward Weston, and Armin Hansen, all legends in their fields of photography and art.
Visitors to La Mirada will access an opulent residence and a fantastic rose garden throughout their stay. Rotating exhibitions are the centrepiece of this section of the museum.
The museum's interior is stunning, with expansive glass walls and exposed beams.
A wide variety of educational and community events, including lectures, art courses and summer camps, are also offered by the museum.
Make sure to include this in your itinerary!
Address: 559 Pacific St, Monterey, CA 93940, United States
Point Lobos State Natural Reserve
Do you enjoy spending time in nature?
Visit the Point Lobos State Natural Reserve now!
It's a famous tourist attraction because of the beautiful granite cliffs and strange rock formations that dot the beach.
You may go scuba diving, work out, or photograph nature on one of the 13 paths.
One of the most popular routes in Point Lobos State Natural Reserve is Cypress Grove, a grove of Monterey cypress trees and spectacular ocean views.
There are stunning coral reefs, kelp forests as high as 70 feet, and the chance to see a seal or a whale if you're lucky at Point Lobos State Natural Reserve.
Tidal pools, tunnels, and stone-encased ponds are some of the island's other characteristics.
Address: 62 CA-1, Carmel-By-The-Sea, CA 93923, United States
Point Sur Lightstation
The waves crashing against Point Sur Lightstation's rocks are something to see!
Point Sur Lightstation sits on a large chunk of volcanic granite along the California coast.
Three hundred sixty-one feet above Monterey Bay, it has kept an eye on the oceans and what is beyond.
After a ship became aground on a rocky ledge in the 1880s, the concept of building a lighthouse at Point Sur was born.
It was completed in 1887, just three years after construction began, and was first made available to the general public in 1888.
The lighthouse was rarely visited by anybody save lighthouse tenders due to its arduous access.
After being automated in 1972, Monterey's lighthouse has become one of its top tourist attractions, despite no longer needing a keeper.
Only one other lighthouse from the same era is open to the public in the state of California, making it an important historical monument.
It is a must-see location.
Address: Point Sur Lightstation, Monterey, CA 93940, United States
Sloat Monument

Visiting this incredible landmark is a must if you're a history lover!
Monterey's Sloat Monument has an intriguing history, making it one of the city's most popular attractions.
A little history of the man who inspired the monument's design, Commodore John Drake Sloat, is necessary for a complete understanding of the monument's significance.
For his role in the Mexican–American War of 1846, Sloat is widely regarded. At the time, he was in control of four US Navy ships.
Because of the weakening of the Mexican military in Alta, California, he was fully aware that American forces might easily take the territory.
During the first week of July that year, Sloat landed in the state and began his voyage there as quickly as possible.
If Sloat wished to take advantage of any British ships in the region, though, he had to act swiftly.
Early settlement in Monterey was met with minimal opposition.
The rest of the state was handed over to the United States three years later because of its role as the state's capital.
In honour of the captain who first landed in the city, Fort Mervine has been constructed nearby.
All in all, the location is closely secured, yet the memorial is open to the public.
Yes, you should see the Sloat Monument. It was erected in 1910 and had views of the bay in Monterey Bay.
Address: Ewing Rd, Monterey, CA 93944, United States
The Moon Tree

Learn the legend of the Moon Tree.
By visiting there, find out why it's one of the best things to do in town!
Apollo 14 was launched in 1971 and was the start of it all.
Stuart Roosa was the Command Module Pilot who took hundreds of seedlings to the moon in his bag.
As a smokejumper for the US Forest Service before joining NASA, Roosa tested the effects of space exposure on seed germination and development.
Redwoods, Sycamores, Loblolly Pines, Douglas Firs, and Sweetgums were selected for the studies, and control seeds from each species were placed on the ground.
Roosa and the seeds completed 34 full orbits in 33 hours while conducting gravity and radar experiments and taking pictures of the moon.
When he returned to Earth, the Forest Service had almost 350 saplings.
Many were free in honour of the bicentennial of the United States' founding.
When Roosa saw the Moon Tree seeds, she picked one up. A Redwood tree has taken root in this unassuming location.
Many seeds germinated and flourished in the same manner as those on the ground.
Roosa, who died in 1994, was commemorated by the Moon Tree he planted in his honour before it was cut down.
Take advantage of the natural beauty that Roosa created!
Address: 536-570 Pacific St, Monterey, CA 93940, United States
The Old Whaling Station

Is this a well-known location for weddings?
Is this a historical site?
You can't miss the Old Whaling Station in Monterey.
Once David Wight and his family moved to California's gold fields, the edifice was allowed to rot.
After purchasing the property in 1855, the Old Monterey Whaling Company turned it into apartments for its employees and their headquarters.
For processing, whales were taken from the water and brought to land by a whaling firm.
Corsets and umbrellas were made from whale baleen, a bone filter found in whales' mouths.
The natural lubricant blubber was used in both maps and machines.
Grounded bones might be used as fertilizer or paving material.
Whale populations began to decline in the early 20th century when other whale species were endangered.
International Whaling Commission's attempts at limiting commercial whaling were unsuccessful in 1986.
Currently, the Old Whaling Station serves as a poignant reminder of the industry's heyday.
Free museum and tourist attraction owned by the state since 1980, which is recognized as a historical landmark by the community.
Address: 391 Decatur St, Monterey, CA 93940, United States