Below is our list of best places to visit & things to do in San Diego California

Aquatica

Aquatica is a well-known tourist destination in San Diego.
It's unique in that it can go from tame to ferocious.
There are waves for all skill levels, animal encounters up close, cabanas for your privacy, and plenty of activities for the whole family to enjoy at Aquatica.
It provides a wide range of entertaining activities that aren't directly related to the ocean.
In addition to seeing marine displays, you may dine on fresh fish in a seafood restaurant or even get up and personal with a dolphin.
A high-speed, competitive mat ride where you may encounter adventure first-hand, Taumata Racer(R) is the park's newest addition.
Day passes and season passes are also options, with the length of your trip determining which you choose.
Don't forget to plan on spending the rest of the day and maybe the entire summer here!
Every time you visit Aquatica, you can expect a kind greeting!
No matter how you look at it, Aquatica is a must-see in San Diego for families looking for fun.
Address: 2052 Entertainment Cir, Chula Vista, California 91911, USA
Balboa Park
Anyone visiting San Diego should not miss a trip to Balboa Park.
Visitors may enjoy hiking paths, a botanical garden, a wildlife zoo, a theater, and various other attractions in the park.
Located in the city's heart, the park's 1,200 acres are a cultural hub.
Downtown San Diego's Balboa Park is a great place to go for a walk, bike ride, or picnic (approximately 2 miles north of the city center).
Balboa Park's Botanical Building is a great site to begin your exploration of the park.
The structure is one of the most photographed in Balboa Park and one of the most prominent in the world's architectural history.
Don't simply gaze at it, though.
It has a cactus garden, a rose garden, a Japanese-style garden, and a palm tree canyon.
Give yourself plenty of time to visit one of San Diego's most popular attractions!
Address: 1549 El Prado, San Diego, California 92101, USA 
Belmont Park
One of San Diego's top attractions is Belmont Park.
It's a roller coaster fashioned out of wood that snakes down the San Diego coastline, and it's enough to halt you in your tracks.
The top of the roller coaster offers a view of Mission Beach and Mission Bay.
The thrill of the roller coaster is just the beginning.
There are 12 rides, three restaurants, an 18-hole mini-golf course with a Tiki theme, and much more at this entertainment park.
Sugar tycoon John D. Spreckels established Mission Beach's Belmont Park in 1925, becoming a local landmark.
Among his businesses are a sportswear and surfing/skateboarding clothing store called Sun Diego and an equipment rental company for bicycles and beach gear for hire.
The rides and the heat will leave you breathless, and it's one of the most popular tourist spots in the state.
Address: 3146 Mission Boulevard, San Diego, California
Cedros Avenue Design District

If you're looking for something a little out of the ordinary, take a trip down Cedros Avenue in San Diego's Design District.
Go to sunny Solana Beach's Cedros Avenue Design District to locate boutiques, galleries, and home goods shops that are independently owned and operated.
Most of the establishments in this 2.5-block area are independently owned by local artists specializing in trendy handcrafted goods and services.
The secondhand and rare book collections will appeal to bookworms.
It is possible to traverse this tiny quarter, which has over 85 shops, in only one day, thanks to the quarter's short size (two and a half blocks).
A great farmers market is held every Sunday, as is a slew of shops featuring local art and stylish clothing stores.
It's the only object of its kind in the entire city. You may pick up a souvenir of your trip while you're there.
Address: Cedros Avenue, Solana Beach, California 92075, USA
iFLY San Diego

Flying is a fantasy for many people. iFLY Indoor Skydiving San Diego has opened its doors to the public.
iFLY, an indoor skydiving facility, lets you enjoy the thrill of skydiving without the risk.
Float on a cushion of air with expert instructor right next to you. Experience the rush of skydiving without jumping out of the plane.
Using cutting-edge technology, it recreates a death-defying plunge's sounds, velocity, and emotions. Even so, if you're in a tube, you'll be able to float.
It's not the only place in the state where you can try indoor skydiving. Even so, it's one of the greatest and close enough to San Diego for travelers to take advantage of.
There will even be flying instructors to guide and supervise those who need it.
Adults and children alike are more than welcome at iFLY!
This thrilling activity is available in San Diego, yet it doesn't require a plane to participate.
If you're planning a journey and looking for something exciting and unique to do, make a pit stop at iFLY!
Address: 2385 Camino Del Rio N, San Diego, California 92108, USA
La Jolla Cove
San Diego's La Jolla Cove is one of the city's most popular attractions!
From La Jolla Shores, you can see the ocean. The stunning scenery will blow every tourist's mind.
The Cove Reserve for Ecological Diversity is part of the 6,000-acre La Jolla Underwater Park.
Discover hidden underwater tunnels and unusual marine animals while kayaking or snorkeling through the region's peculiar vegetation.
San Diego is the best place to swim, dive, and snorkel.
The La Jolla natural park also has a world-renowned diving spot.
A simple 20-minute drive from downtown San Diego, La Jolla Cove is a rich beachside resort.
An ecologically sensitive area has been declared for this secluded little cove in the middle of the open sea.
Listen to the crashing waves as you stroll down the sand with the people you care about.
Address: 31100 Coast Blvd, La Jolla, CA 92037, United States
Lake Hodges
San Diego's best lake is a great place to escape it all!
In 1918, the San Dieguito Creek Hodges Dam Project built Hodges Reservoir.
San Diego City purchased it in 1925.
In addition to providing water to the San Dieguito Water District, the Santa Fe Irrigation District, and the city of San Diego, this reservoir is managed and administered by the City of San Diego's Department of Public Utilities.
Southern California's Lake Hodges, located north of San Diego and south of Escondido, is a reservoir and lake.
The leisure area has six grills and 12 picnic tables.
Self-contained gas barbecues are permitted in the picnic area.
Open fires, glass containers, and camping are prohibited in the park.
Right now, there isn't somewhere to get a drink. To avoid dehydration, carry your water.
Lake Hodges' sights will leave you dizzy.
Activities at Lake Hodges range from kayaking to grilling, and it's one of California's best-known tourist sites.
Let the whole crew join you on this expedition; they are sure to have a blast!
Address: 20102 Lake Dr, Escondido, California 92029, USA
Legends Gallery

It is a fantastic gallery for children to explore!
It's possible to spend some time at other local galleries after you visit the limited (but interesting) collection at hand.
The Legends Gallery window displays a life-size statue of a Dr. Seuss character, a gallery that displays Dr. Seuss' work.
People loved Dr. Seuss because of his "prescription for joy," and he became an honorary doctor of letters.
Find out more about Tom Everhart and many other individuals like Mackenzie Thorpe.
People from all over the world come to San Diego to participate.
One of the most famous attractions in San Diego is the Legends Gallery.
You'll be glad you made the trek after discovering a previously undiscovered area of beauty.
Address: 1205 Prospect Street, La Jolla, CA 92037, USA
Little Italy
The smell of pasta and sauce permeates the area.
Violins' sounds are floating through the air, but they are faint.
Little Italy is just a few blocks from downtown San Diego.
This charming neighborhood is home to some of the best Italian restaurants, bakeries, wine bars, and specialty shops.
Prepare yourself for a feast of freshly shucked oysters on the spot and sea urchins harvested only hours earlier.
Other options include paninis, crêpes, and cups of cheesecake. If that seems too adventurous, you might perhaps try a green smoothie.
The trendy cocktail bars, brewpubs, and restaurants with busy patios of Little Italy are all within walking distance of one other.
Waterfront Park has fountains, views of the lake, and a lot of green space.
Little Italy is a wonderful place to begin when looking for something fresh to do in the city. You'll find a delicious pizza topped with nearly all the recommended components here.
Address: 1668 Columbia St, to West A Street from Laurel, San Diego, CA 92101-2502, USA
Mission Trails Regional Park

One of the most excellent things to do in California is to walk along the Mission Trails at Regional Park.
Located northeast of San Diego, this vast natural preserve covers 5,800 acres and is the country's sixth-largest municipal park.
Outdoor enthusiasts will enjoy the park's wide range of activities.
A picnic in the lowlands or a night of camping in the mountains is all viable options, as are biking or trekking along the river's edge.
Suppose you'd want to do something fun while on vacation that you couldn't do at home. If this is the case, you can even go horseback riding.
This region has several hiking trails, including Cowles Mountain, East Fortuna Staging Area, Kumeyaay Lake & Campground, Old Mission Dam Historic Site, and many others.
Time to don your hiking boots and pack your gear!
Address: 1 Father Junipero Serra Trl, San Diego, California
Model Railroad Museum
As an adult, you may relive your childhood love of trains by visiting San Diego's Model Railroad Museum.
Rarely does one come across a guidebook that discusses it. Although it is the world's largest display of its sort, it is located in California and is a major tourist attraction.
Every single inch of this room is occupied by miniature trains!
In January 1983, the San Diego Model Railroad Museum opened its doors.
SDMRM has served model train enthusiasts, artists, architects, engineers, and families in San Diego for nearly 30 years.
With over 27,000 square feet of tracks, trestles, and locomotives, the Model Railroad Museum of San Diego is a wonderland for kids and adults alike.
Only recognized model railroad museum in the United States, and one of most major celebrations for creativity, craftsmanship, and imagination that goes into model railroading, are shown at the museum.
Having the most memorable experiences is not uncommon when you least expect them.
The San Diego Model Railroad Museum is a great place to go if you're looking for unique things to do in San Diego.
Address: 1649 El Prado Modern and Contemporary Art and Dynamic, San Diego, CA 92101, USA
MooTime Creamery

Time to Moo! Not all ice cream is created equal.
It's hard to forget a MooTime ice cream since it's made with the greatest ingredients.
Ice cream created in a local facility is available for purchase at MooTime Creamery.
To make their ice cream, sorbet, yogurt, or sherbet, customers can choose from 37 different mix-ins and combine them to create a dish that Rachael declares to be "amazing."
Your family may begin a new tradition here.
In terms of ice cream, MooTime has mastered and developed the most delicious, incredibly creamy formula.
Kona ice cream or more modern options like waffle tacos and cookie sandwiches are available.
Because the space is constantly filled, you must arrive early to get a seat on a first-come, first-served basis.
Take a stroll around San Diego's sunny streets to savor your ice cream!
Address: 1025 Orange Avenue, Coronado, CA 92118, USA 
Old Point Loma Lighthouse
While you're on your California coast vacation, give this place a shot!
Once the tallest lighthouse in the United States, the Old Point Loma Lighthouse sits atop a bluff near San Diego.
Because of its height, the lighthouse's keepers had to rely on firing shotguns at approaching ships to keep them at bay.
However, the Old Point Loma Lighthouse is still a fantastic San Diego attraction.
Sunset Cliffs Natural Park's southernmost point, a military station built in 1855, served as a beacon for mariners for years and is now a reminder of our history.
The Old Point Loma Lighthouse stood vigil for 36 years at the entrance to San Diego Bay.
A testament to its tenacity, simply because it's still standing today!
It's hard to go to San Diego without stopping at the Old Point Loma Lighthouse. Get down there and take some pictures of the fantastic structure!
Address: 1800 Cabrillo Memorial Dr., San Diego, CA 92106, USA 
Petco Park
Petco Park is a great place to see the San Diego Padres play!
Among the food booths and bars, you'll find anything from enormous video walls to little HDTVs for you to keep up with the action.
A wide variety of bars and restaurants can be found around it in the heart of downtown San Diego.
The San Diego Padres' home field is one of the few American ballparks with an ocean view.
Attending a baseball game isn't the only thing to look forward to at this location.
Various sports have been played in the stadium over the years.
There is a children's amusement area in Petco Park. Tourists may learn more about the Padres' rich history and prominent players at the team's new Hall of Fame.
Padres fans may learn about the team's history and prominent players in a new Hall of Fame entertainment area for children.
You'll find it all at Petco Park!
Address: 100 Park Boulevard, San Diego, CA 92101, USA
San Elijo Lagoon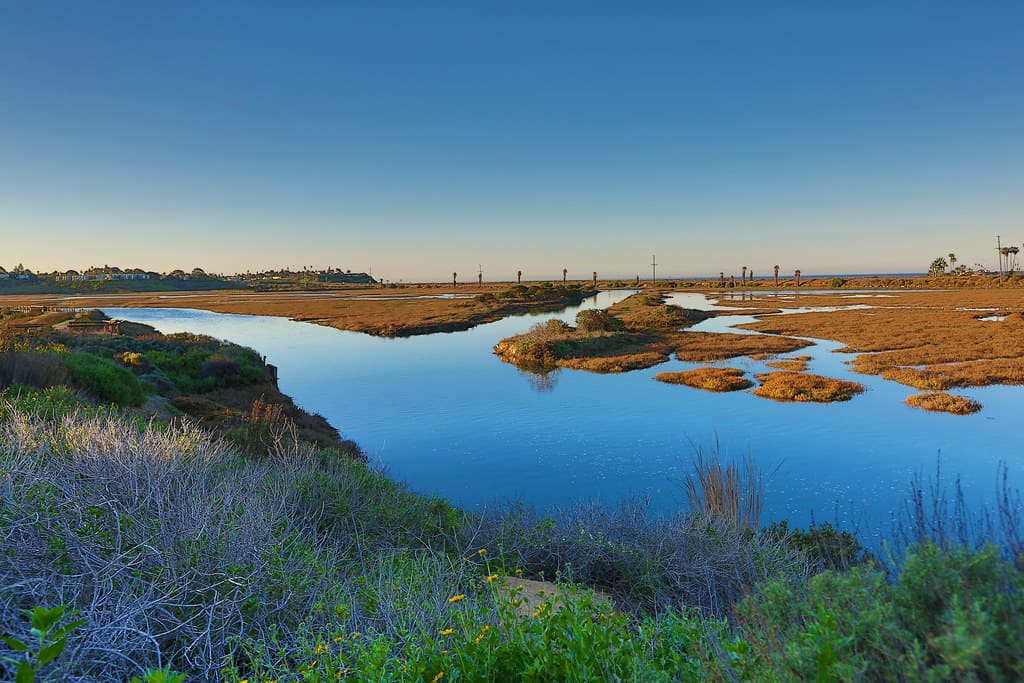 A vital wetland area in San Diego County, this 979-acre preserve is one of the largest in the region.
San Elijo Lagoon is a shallow marsh formed when the Pacific Ocean meets the La Orilla and Escondido Creeks in San Diego.
It's a beautiful location for various important events, including weddings!
Runners, hikers, birders, photographers, and artists may also enjoy the area's natural beauty.
Individuals can join the Nature Collective, which connects hiking trails and lands and encourages people to fall in love with nature and preserve the natural beauty around them.
There is a  non-profit organization dedicated to the preservation of natural areas like the San Elijo Lagoon.
San Diego's diversified bird population depends on the lagoons' salt-and-freshwater mix and the city's prime location on the Pacific Flyway for their survival.
San Diego's activities don't have to be expensive to be great, as seen by the Lagoon of San Elijo.
The city's strolls are just as pleasurable as most of the city's other activities! As you stroll through the park, remember to take in the splendor of the surroundings.
Address: 2710 Manchester Avenue, Cardiff, CA 92007, USA
Spanish Village Art Center
The exhibits in the Spanish Village Art Center are spectacular.
Paintings by a revolving group of artists are made using a variety of materials such as acrylic and oil paint, felt, beads, metal, glass, clay, and pictures.
No matter how many times you've been here, there's always something fresh to see.
Over 200 local artists work in a variety of mediums in the old working studios.
The experience is priceless, and it's completely free to attend.
They were built in 1935 and may be seen near the NAT and the Zoo.
Regarding the second California Pacific Exhibition, they built a beautiful Spanish village.
Local artists have worked to secure the long-term preservation and enrichment of this significant landmark by adding a colorful mosaic of ceramic floors, studio doors, and flowers during the past 60 years.
More than 200 local craftsmen in the Village are eager to share their knowledge and enthusiasm for the arts with you.
Taking a trip around the world doesn't even require leaving San Diego.
Address: 1770 Village Pl, San Diego, California 92101, USA
Sunny Jim's Sea Cave

If you've been studying a map of San Diego, don't miss Sunny Jim's Sea Cave!
It is a must-see destination if you enjoy interesting historical places.
It was in 1902 when Gustav Schultz recruited two Chinese workers to build this tunnel for him.
There are seven caves at La Jolla Cove.
The general public has enjoyed free access to this attraction since it opened in 1903.
Sunny Jim's Sea Cave may be reached by following the trail from Schultz's first dwelling, the Cave Store.
The Cave Store has a storied past in San Diego.
The legends and history of the cave are equally fascinating to learn about.
Clam's Cave is on your route to The Cave Store in La Jolla, one of California's only marine caves viewable from land.
If you bring a flashlight, you'll never forget your visit to Sunny Jim's Sea Cave in San Diego.
Address: 1325 Cave St, San Diego, CA 92037
Sunset Cliffs Natural Park
The name "Sunset Cliffs" might make you believe this location would be stunning.
Visitors to San Diego's Sunset Cliffs area may enjoy the city's most spectacular sunsets from the comfort of their homes perched high above the city's picturesque sea cliffs.
Because of its tranquil, picture-perfect surroundings, Sunset Cliffs attracts a large crowd every night.
The location provides an unrivaled ocean view as the sun transforms the horizon from blue to rosy-toned hues.
Sunset Cliffs Natural Park is a great place to watch gray whales migrating to Baja, California, Mexico, during their annual migration season.
If you're looking for exciting nightlife activities in San Diego, Sunset Cliffs Natural Park is the place to go.
Looking for the perfect spot to watch the sun go down over San Diego? Look no further.
Address: Ladera Street, San Diego, CA 92107, USA
Torrey Pines State Natural Reserve
Torrey Pines State Natural Reserve is a great place to visit if you want something to do in San Diego.
The Torrey Pine, the rarest pine tree in the United States, is one of the many flora species in this beachfront reserve.
Over eight miles of pathways lead to pristine, undeveloped beaches with few signs of human habitation, such as the Beach Trail.
The Torrey Pine, which only grows on Santa Rosa Island off the coast of Santa Barbara and in this park, is at risk of extinction.
Gray and blue whales may be spotted from the cliffs throughout the migratory season.
Torrey Pines isn't a secret, but there's a reason why so many people visit.
This place has special magic you won't find anywhere else in the city. Prepare to be amazed!
Address: 12600 N Torrey Pines Rd, La Jolla, California 92037, USA
San Diego Zoo

We had a great day at the San Diego Zoo!
The San Diego Zoo is a world-class attraction home to more than 3,500 species.
Medical doctor Harry M. Wegeforth was inspired by a lion's roar during the Panama-California Exposition in 1915 and founded the company.
Around 650 distinct species may be found in the area.
Spend a half-day at the zoo to get the whole zoo experience, including shows and animal exhibits.
Throughout the park, there are several eateries where parents may relax with a refreshing beverage in the afternoon.
Yes, I am concerned about them.
Aerial trams and tours are available as well as performances and rides.
The San Diego Zoo is such a blast that it's like a mini-vacation inside a vacation. Make a day of it with your entire crew if you're ever in California.
Address: 2920 Zoo Drive, San Diego, CA 92101, USA