Below is our list of best places to visit & things to do in New Port Beach, California

Balboa Island Ferry
It's a once-in-a-lifetime opportunity in Newport Beach that you shouldn't miss!
To travel about Newport Beach, the Balboa Island Ferry offers more than just a cheap mode of transportation.
Since 1919, commuters and their vehicles have relied on this vintage boat to get around Newport Beach.
Located in Newport Beach, the Balboa Island Ferry connects Balboa Island to the Balboa Peninsula by boat.
The distance between the island and the peninsula is about 1,000 feet, yet it takes six kilometers to get there.
Although it is possible to visit Balboa Island without taking a boat ride, it is still a worthwhile experience.
Ride a boat to see the coastal town at sunset or night for a more stunning perspective of the town's waterfront.
Address: 510 Palm St, Newport Beach, CA 92661, United States
Beach Pier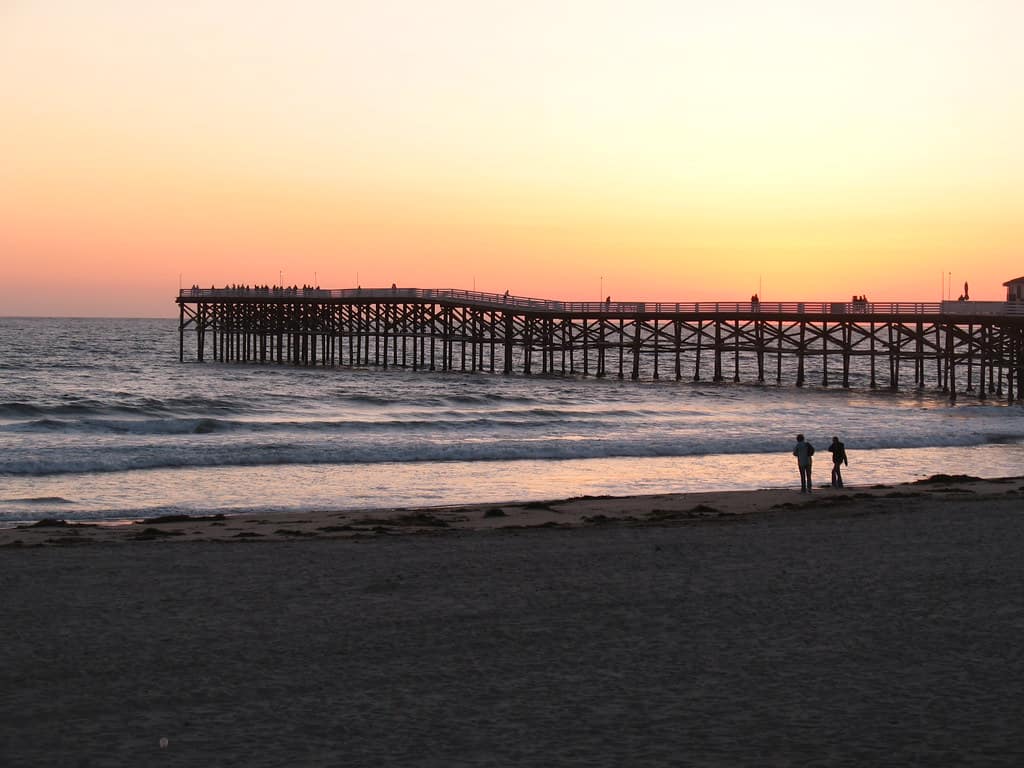 The walkway along the Beach Pier offers terrific views of the beach and the water.
The Newport Beach Pier was formerly known as McFadden Wharf.
It was built in 1888 and served as an official address for the local landowners.
The Dory Fishing Fleet, which was created in 1891 and is still running strong, is located at the pier's base.
Following its sale in 1902, the pier underwent extensive renovations before being converted into a recreational and residential complex.
Having been completely rebuilt following a hurricane in 1940, it is today one of the most exciting attractions in Newport Beach, California.
There's a lot to do and see at Newport Pier. It would be best if you learned more about the area's attractions: fishing and dining at the nearby local shops.
In the middle of the Balboa Peninsula, Newport Beach Pier has a total length of 1032 feet.
Historic, relaxing by the sea, and affording stunning sunset views, the municipal pier is a must-see.
Address: 70 Newport Pier, Newport Beach, CA, United States
Civic Center Park's

Sculpture Exhibition

and Bunnyhenge

What are the best places in Newport to go for a vacation? Visit Civic Center Park right away!
Landscape architecture firm Peter Walker and its associates designed the 500,000-square-foot project.
The project was developed by Peter Walker and Partners, a well-known organization in landscape architecture.
In choosing public art for the city, the Newport Beach City Council considers the work's artistic worth, use, durability, and suitability for the location.
The park, nicknamed a "museum without walls," is known for its rotating sculptures.
Sculptures such as these are loaned to the city council after thoroughly appraising their quality, style, and long-term durability.
Each art piece has its unique style and expression, ranging from vibrant, dreamlike displays to bold, abstract figures and imaginative, thought-provoking installations.
Do not miss Marisabel Bazan's migration of my dreams if you travel with young children.
Address: 100 Civic Center Dr, Newport Beach, CA 92660, United States
Corona Del Mar State Beach
Prepare yourselves! Corona Del Mar State Beach is beckoning!
Corona Del Mar is ideal for sunbathers.
Sunbathing on this beach is guaranteed because of its sandy 0.5-mile expanse.
As a state park in 1947, Big Corona Beach was renamed Corona Del Mar, which translates to "The Sea's Crown."
Corona Del Mar State Beach was established in 1947 and had a total area of 30 acres.
Corona Del Mar State Beach has picture-perfect sands and scenery at Newport Harbor's east entrance.
In California's state park and beach in Newport Beach, the Corona del Mar State Beach is kept in top condition.
In many films and television shows, this beach has appeared.
The seaside cliffs come to life at night, creating the perfect setting for a romantic evening.
Fire pits may also create a romantic atmosphere on the beach.
Address: Newport Beach, CA, United States
Environmental Nature Center

The Environmental Nature Center is the place to go if you're searching for something more educational.
The Environmental Nature Center (ENC) was established in 1972.
There are several outdoor activities in Newport Beach, and this 3.5-acre park is just one of them.
California's natural habitats may be found at the Environmental Nature Center.
The facility is known as "The ENC" because of its focus on education.
The centre's offerings include a butterfly habitat, environment camps in the summer, school activities, and a Nature Museum, where children may discover and touch natural items.
On one of the park's many nature trails, you may explore a variety of ecosystems and habitats. During your adventure, you'll see redwood forests, oak forests, a marsh, and a desert. The region also includes a butterfly habitat and the Museum of Natural History.
Programs, attractions, and camps at the Center for Environmental Nature are designed to educate visitors of all ages.
Its widespread appeal can be attributed partly to its emphasis on active participation.
Address: 1601 East 16th Street, Newport Beach, California 92663, United States
Fashion Island
While on vacation in Newport Beach, do you like to shop and find new things to do? Make Fashion Island the first stop on your itinerary!
Shopping on Fashion Island is an experience in itself.
This complex will likely satisfy your shopping needs with more than a hundred independent stores and well-known brand names in the area.
Fashion Island is a public shopping destination with a view of the Pacific Ocean.
Over 150 department and boutique shops and a wide variety of eateries can be found in the premium shopping center, which opened in 1967.
Shops like Neiman Marcus and Macy's are just a short walk away from the shopping district. During your stay, don't miss out on their theater and Whole Foods Market!
Gucci, Chanel Armani and Bloomingdale are among the boutiques you'll come across as you go throughout the city.
High-end shopping and fine dining await you at Fashion Island's vast open-air complex.
Address: 401 Newport Center Dr, Newport Beach, CA 92660, United States
Newport Harbor
Now is the time to see Newport Harbor and take in its stunning views!
As one of the country's largest recreational harbours, Newport Harbor, a semi-artificial marina, is situated on southern California's Central Coast.
The harbour is located in Orange County, California, near Newport Beach, a picturesque beachside neighbourhood.
Balboa Island was nearly entirely encircled by it.
If you're on a date, consider going to a fine-dining place or a Japanese-fusion restaurant.
Once in Newport Harbor, you may have come at the right moment. As a result, events like the Ensenada International Yacht Race to Newport will be within your grasp.
All of the city's attractions are within walking distance of Newport Harbor.
It's a great place to learn about the neighbourhood if you're a new arrival.
Visit the harbour if you want to learn more about the area around Newport.
Address: U.S. city at Newport Beach, California
Landing Restaurant

It has been ranked as one of the city's top upscale restaurants for the past three decades.
The oyster bar of the Newport Landing Restaurant is open 24 hours a day.
When it opened in 1986, it rapidly became popular in the community.
If you're looking for exciting things to do in Newport Beach, go no further than this exquisite and well-known restaurant.
The restaurant has a spacious bar featuring drinks, California wines, local craft breweries, and fresh seafood.
The laid-back atmosphere, locally sourced food, and fresh vegetables create a delightful cuisine that appeals to various tastes and preferences.
Take advantage of the city's "long-running happy hour" at a neighbouring pub.
Other options include fish with chips, grilled Atlantic salmon, and shrimp linguini. You may also order a wide choice of delectable cuisine.
The restaurant's waterfront location, with a view of the Balboa Ferry, is another reason for its appeal.
Address: 503 Edgewater Pl, Newport Beach, CA 92661, United States
Landing Whale Watching

See if you can get a close look at some whales!
The Beach of Newport offers year-round opportunities for whale-watching excursions.
Gray whales spend the winter and spring migrating south before returning in the middle of the year.
Blue whales can also be spotted in the area during the summer and fall.
Even sharks may be found in the warm seas of southern California. Several species of whales can be found in the area, including finback, humpback, and killer whale.
Because of its prime location, Newport Beach is home to various paths used by migrating whales.
You may view these magnificent and massive beasts up close on a cruise departing from Newport Landing, popular with whale watchers.
Until you can witness a whale up close, it's impossible to put into words the wonder and amazement they inspire.
If you depart Newport Bay, one of the world's largest marine protected zones, you may witness a wide variety of whales and dolphins.
Address: 309 Palm St A, Newport Beach, CA 92661, United States
Lido Marina Village

The Balboa Peninsula's ambience is enhanced by an eclectic mix of chic shops and boutiques.
Shoppers flock to Lido Marina Village for its array of stores.
The Lido Marina Village on the Balboa Peninsula is where you'll find this hotel.
There is a wide range of businesses here, from vintage to boutique, so there is something for everyone.
Lovely restaurants, elegant businesses, and a sophisticated atmosphere are all found in this wealthy outdoor area.
Wine connoisseurs will be pleased to learn that Lido Bottle Works and Zinque offer a wide range of fine wines.
This charming retail destination is set against a seaside setting.
Clothing, jewellery, antiques, and other goods are available for purchase.
Adding a fitness and hair salon store is an excellent way to put things into context.
Shopping and sightseeing in Newport Beach, California, is a beautiful way to pass the time.
Address: 3434 Via Lido, Newport Beach, CA 92663, United States
Little Corona Beach
Little Corona is a must-see!
Newport Beach's Ocean Boulevard and Poppy Avenue crossroads is where you'll find the
Ocean Boulevard is the only way to get to Big Corona
From here, you can see for miles out to sea.
Visitors may see the ocean, Inspiration Point Park, Big Corona Beach, and Newport Harbor from the cliff's edge.
This isolated beach is a must-visit for visitors to Newport Beach, even though it is only a few feet long.
It's a popular diving destination because of the rocky reefs on the shore.
Equipment and food can be brought down the beach quickly because there are no steps in the protected area.
Clifftop views of Little Corona Beach are similarly enticing.
Address: Newport Beach, CA, United States
Pelican Hill Golf Club
The Pelican Hill Golf Club is a great place to unwind after a spectacular round of golf.
Guests and golfers alike will be wowed by the resort's stunning scenery, premium amenities, and top-notch service.
Renowned course architect Tom Fazio designed it.
In addition to GPS-enabled golf carts, private locker rooms, gratis valet, and an exceptional cafe providing delectable meals and beverages, the Pelican Hill Golf Club takes great pleasure in offering first-rate amenities and services to its members.
It is possible to play Pelican Hill Golf Club's two 18-hole courses. One is aptly called Ocean North, the other Ocean South.
There are three holes and two greens on Ocean South, which is a great 13th hole.
Each shot is laid out in a way that complements the surrounding landscape, and the same is true of the holes.
Playing the game is the only way to understand what this is like truly.
There is no better site for a once-in-a-lifetime golf retreat than Pelican Hill, which enjoys almost 300 days of sunlight every year.
Address: 22800 S Pelican Hill Rd, Newport Coast, CA 92657, United States
Peter & Mary Muth Interpretive Center
If you're at Newport Beach, don't miss the Nature Preserve and the Upper Newport Bay Ecological Reserve!
The Peter and Mary Muth Interpretive Center is located in Newport Beach's University Area.
The Upper Newport Bay Ecological Reserve and Nature Preserve's visitor center are located here.
The educational facility was constructed in the year 2000.
In addition, it has offered guests pleasurable possibilities to interact with information on various subject matters.
During guided walking tours or boat excursions, guests are given an overview of the estuary so they may better appreciate what they're seeing.
There is an imposing cliff with a butterfly garden, a children's activity area, and a movie theater north of the bay.
Eco-friendly construction materials were used to build the Peter & Mary Muth Interpretive Center.
The 10,000-square-foot museum is dedicated to the history of the estuaries.
It's a great way to taste the beautiful scenery in Newport Beach, California.
Address: 2301 University Drive, Newport Beach, CA 92660, USA
Public Library
Visit Newport Beach Public Library, and you'll feel right at home!
Reading or studying may be done comfortably in the "Friends Meeting Space," which has much potential for development.
Library-related and Library-affiliated events and activities are frequently held in and around the Friends Room.
Simon Martin-Vegue Winkelstein Moris, a San Francisco-based architecture company, created the 54,000-square-foot project.
One million people visit the library's books, DVDs, and audiobooks every year.
It has also hosted public service events, art and music performances, literary lectures, and other activities.
There is a cafe and an outdoor eating space for those who want to keep their conversation private.
Children's Room space will be increased, as well as the number of study areas, reading rooms, and second-floor amenities available.
One of the best things to do in Newport Beach is to come here and read a book.
Address: 1000 Avocado Ave, Newport Beach, California 92660, USA
Sherman Library and Gardens
What to do if the weather is wet or chilly in Newport Beach?
As well as literature, the Sherman Garden and Library are filled with vivid flowers, making it a beautiful place to visit all year round.
You'll find this landmark in San Diego's Corona del Mar district.
Spectacular flowers, plants, and trees may be found in the area.
Businessman Arnold D. Haskell created it in 1955.
Succulents, orchids, a fern grotto, a desert region, and a rose garden adorned the space.
The library has almost 15,000 books and artworks by Impressionist artists.
Cafe Jardin hosts various events and meals throughout the summer, including "coastal food" inspired by French-Californian cuisine.
Check out the secret waterfalls, koi lakes and Japanese garden as you walk the trails.
Various succulents, including succulents, may be found in these gardens.
Set out for this breathtaking location in Newport Beach as soon as possible!
Address: Corona del Mar 2647 East Pacific Coast Highway, Newport Beach, CA 92625, United States
The Wedge
Adrenaline enthusiasts who like bodyboarding and surfing will love this spot.
The waves on this beach can reach 30 feet in the event of an extreme storm (9 meters).
It's easy to see why so many people go there to surf and bodyboard.
It is a well-known beach location in Southern California known for its strong waves and stunning wave sceneries resulting from the area's unique geological features.
Surfers have come to the Wedge for more than a century to test their skills on the complex and unpredictable swells, reaching heights of up to nine meters.
Even if you are not a surfer, you may appreciate the beauty of this beachfront location.
Please relax and enjoy the sights and sounds of surfers riding waves on their backs and daredevil wave runners.
There is no need for you to do anything but sit back and enjoy the scenery.
Address: Newport Beach, CA, United States
Upper Newport Bay Nature Preserve
Interested in spending the day snagging birds? You've got a place here.
A thousand acres of marsh and estuary make up the Upper Newport Bay Nature Preserve in California.
The Upper Newport Bay Nature Preserves, known as "The Rear Bay", is a large coastal wetland among the locals. Taking a kayak tour with the Newport Bay Conservancy is the most excellent way to see this region, which the organization protects.
Birdwatchers flock to the area in droves. It serves as a rest station for some 35,000 migrating birds along the Pacific Flyway. As you cruise along, look for pelicans and terns flying overhead, stingrays gliding by and silver mullet swimming beneath the surface.
Activities like hiking, family holidays, horseback riding, vacations, and biking are commonplace.
This well-known location in Newport Beach attracts many visitors each year.
It's possible to visit a local museum dedicated to the estuary's previous history.
Address: 2301 University Drive, Newport Beach, CA 92660, USA
Vineyards and Winery

It's a must to visit this vineyard and winery!
Founded in 1998, Newport Beach Vineyards & Winery is located in the upper part of Newport Bay.
A massive five tons of red wine grapes are harvested each year and utilized to generate the world-famous California wines for which the region is famous.
The winery's output is based on traditional Bordeaux red wine grapes.
Two-hour tastings are available for large groups.
Most of the time, the general public cannot visit Newport Beach Vineyards & Winery. Among other things, a sports car on the owner's house wall can be seen from a distance.
In addition to Cabernet Sauvignon, Merlot and Cabernet Franc, other award-winning varietals include Cabernet Verdot, Petit Verdot, and Malbec!
Take a walk around and see the vineyard's stunning scenery!
Address: United States, 2128 Mesa Dr, Newport Beach, CA 92660
Visit Balboa Island
Hundreds of visitors each year come to do everything from paddle their boats to shop for unique goods in this charming little town.
Located between Newport Beach and the Balboa Peninsula, Balboa Island is a popular tourist destination.
Vasco Nunez de Balboa was the Spanish adventurer whose name is associated with the Balboa Peninsula, a Newport Beach area.
It's the oldest and most well-known structure on the peninsula, having been constructed in 1906 as both a landmark and a maritime leisure center.
Art, music, sun, and family fun are displayed at the Balboa Island Artwalk.
When the harbour was inundated in the early 1900s, the island's construction, which can be accessed by either a short car journey or a lovely boat ride, began.
Kayak, paddleboard and sailboat rentals are available for guests to explore the island's waterways or take a stroll along the beachfront promenade.
In all, this region is home to a large number of privately owned firms.
Try a Balboa Bar with a candy-rolled ice cream bar from the island of Balboa!
Address: Newport Beach, CA, United States
Whale Watching
As a visitor to this coastal California gem, whale viewing is a must-do activity.
Whales migrate through this area every year, and they do so all year round.
As winter and spring end, gray whales begin their annual migration south, returning in the summer.
Dolphin and whale sightings are common in Newport Beach.
Whale watching is a popular year-round activity.
Because the beach is situated on multiple major whale migration paths, it's a great location.
While in town, take a tour to view the gorgeous animals.
It is possible to view large pods of dolphins with thousands of individuals gliding gracefully at a popular year-round whale-watching spot.
There is a good chance that you will be able to get up and close with a whale at some point throughout the year.
There is a wide range of departure times available for this sailing excursion from Newport Bay, which is sure to give you the best opportunity of spotting whales, seals and dolphins.
Address: 309 Palm Street A, Newport Beach, CA 92661, United States